Romance In Africa
Who: Couples and Honeymoons
From £7,940pp
Delve in to the heart of Africa in this two-week itinerary, exploring Cape Town's vibrant neighbourhoods, wine tasting in some of Africa's oldest vineyards and spotting the Big Five in Sabi Sands Game Reserve. Next, head to Mozambique's Benguerra Island to make like a luxurious castaway and dive on the Two Mile Reef.
Itinerary at a glance:
Watch the sunset over Cape Town from atop the towering Table Mountain
Visit some of Africa's oldest vineyards in the Cape Winelands
Spot the Big Five on safari in the Sabi Sands Game Reserve
Dive in the Bazaruto National Park, one of the largest marine reserves in the Indian Ocean and frequented by marine life big and small
Why Book with Original Diving?
Just a few of the extra touches that come as standard on an Original Diving holiday...
See More
All of the holidays we create are completely tailor-made to you
This sample itinerary is intended to give you a flavour of what we can do
Day 1:

International Flight
Your direct overnight flight departs from London to Cape Town in the evening. The flight takes 11-and-a-half-hours so pack a good book or charge the iPad.
Day 2:

Arrive in South Africa
Your flight arrives in Cape Town in the morning. Once you have passed customs, you will be met by your driver and driven to the city centre - it's only a short drive so hopefully you'll be checked into your hotel in time for lunch.
After refreshing and refuelling at your hotel, acclimatise to life in Cape Town with a day at the beach. While the city's rugged coastline boasts many beautiful bays, hit the upmarket beaches of Clifton for its pristine beaches and glamorous clientele.
In the afternoon, take a cable car up Table Mountain to watch sunset over the city before heading into the centre for supper. Cape Town has an ever-growing list of incredible restaurants, and you can delve into the very best by flicking through our detailed Dossier.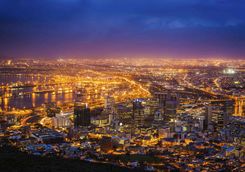 Cape Town is best experienced outdoors, whether hiking, biking, picnicking, sailing… you get the gist. While you can indulge in a lie in, we recommend waking up early to hike up Lion's Head for 360-degree views over the city, including the adjacent, towering Table Mountain.
Cool down with a few laps in your hotel pool before setting out to explore the city's diverse enclaves. Located in the lip of the mountain, wander the historical streets of the City Bowl, or for a greener setting buy a picnic and set up shop in the Kirstenbosch Botanical Gardens.
For sunset head to the glitzy Camps Bay and sip on sundowners while appreciating impressive views of Lion's Head and the Twelve Apostles. Camp's Bay is lined with some seriously stylish restaurants, so you won't be hard-pressed for supper choices.
Additional Activities
Take a guided tour of the Robben Island Museum and discover the prison's 500-year old history - including the incarceration of Nelson Mandela.
Today you will head into the heart of the Cape Winelands to indulge in all things epicurean. Located an hour's drive inland from Cape Town, Babylonstoren is one of Africa's oldest vineyards - dating back to 1692.
Take a guided tour of the magnificent gardens which, spread over eight acres, are a maze of fruit trees, vegetable gardens, streams, ponds, flora and fauna. Grab a bite to eat in the Babel Restaurant - which serves up produce fresh from the garden - before taking the wine tasting tour.
On the tour, you'll stroll through the vineyards, learning about wine production before sampling fine wines in the wine-tasting barn. You can either head back to Cape Town for supper or continue your adventure in the winelands, visiting the historic town of Franschhoek for supper before being driven back to Cape Town.
Day 5:

Sabi Sands Game Reserve
After a leisurely breakfast it's time to head into the bush. You will be transferred to the airport in plenty of time for your flight to Kruger Mpumalanga Airport.
The flight takes three hours and you will be met in arrivals by your driver and chauffeured to your lodge. Depending on which you choose to stay at, the journey should take no longer than two and a half hours, en route game viewing permitting!
Famed for its incredible leopard sightings, the 160,000-acre Sabi Sands Game Reserve is home to an incredibly diverse amount of wildlife, from the 'Big Five' to over 300 species of bird. Spend the day relaxing at the camp, or if you're chomping at the bit for a safari adventure, head out on an afternoon game drive.
Day 6 - 8:

Sabi Sands Game Reserve
Spend the next few days uncovering the best of what the reserve has to offer.
Wake up as the sun rises surrounded by the sounds of the African bush, and head out on an early morning game drive to spot animals waking from their slumber. Embark on bush walks with your ranger or watch animals as you do laps from the pool. Dine al fresco beneath a canopy of ancient trees before setting off on afternoon game drives.
In the evenings, slurp on sundowner cocktails while watching the sky blaze in hues of orange as the sun sets over the savannah. For the ultimate romantic experience, enjoy private candlelit dinners beneath the stars, with night caps in front of a roaring fire.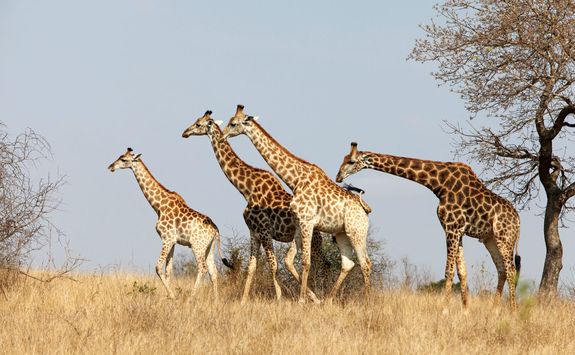 Additional Activities
Take a tour of a local village and slip into a day in the life of the locals for a cultural immersion like no other.
Day 9:

Sabi Sands to Benguerra Island
Today marks the end of your time in South Africa as you play castaway on the beaches of Mozambique.
You will be privately transferred back to Kruger Mpumalanga Airport for your flight to Vilanculos, which will take just over an hour. You will be met by one of our team and ferried to the helicopter for your 12-minute flight to Azura Benguerra, located on the remote Benguerra Island. Keep your camera at the ready as you soar over the stunning Bazaruto Archipelago.
Located within Mozambique's only marine reserve, Benguerra Island is a true island idyll. Once you've settled into your thatched villa, venture a few steps down to the beach. If you can tear yourself away from the island's shores, take a sunset dhow cruise before indulging in a fresh seafood supper in the privacy of your villa.
This morning it's time to hit the reefs. One of the largest marine reserves in the Indian Ocean, the Bazaruto Archipelago is an ecological paradise.
A wealth of local dive sites are suited to both Open Water and Advanced divers with a two-mile healthy reef and abundant marine life as standard. Regular inhabitants range from sharks and spotted eagle rays to seahorses and giant lobster, seen alongside seasonal sightings of humpback whales (June to September) and manta rays (October to March).
Spend your surface interval picnicking on the beach before heading back under the waves to tick off more marine life. If you'd prefer to stick to land, enjoy a riding trek to explore the tracks and trails that snake across Benguerra Island.
In the evening, enjoy a private candlelit dinner along the water's edge.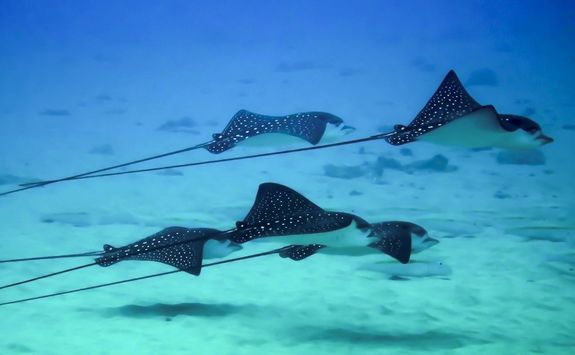 After a relaxed breakfast set out to explore the wild side of the island on a local island tour.
Sit back and take in the local landscape as you zoom across the island by 4x4, dipping into local communities and spotting the vast local wildlife - from reptiles and tropical bird species to large Nile crocodiles - before hiking up the famous Red Dune for panoramas of the island.
In the afternoon you can opt to dive or further your R&R with a spa treatment. Head to the Star Bar for sundowners before taking the few steps across to the Jellyfish Restaurant for an evening of fine dining (jellyfish not on the menu). Continue wine tasting into the night in the extensive wine cellar, which houses some of the owner's own wines.
This morning, push off the shores of Benguerra to dive any unexplored sites along the two-mile reef - one of our favourite sites is Ray Alley for its huge variety of, you guessed it, rays. Think honeycomb and Jenkins' whiprays, marbled stingrays and devil rays. Not to mention ginormous moray eels.
Experienced divers also shouldn't miss Cabo San Sabastian which, home to whirlpools of game fish, is a very memorable dive - however it is a journey so water conditions need to be perfect (but trust us, it's worth it). In the afternoon, relax back on the island, whether taking walks along the beach to deserted sandbanks, taking out a paddle board or reading by the pool.
After supper at a new private location somewhere on the island or at the signature Jellyfish Restaurant, head to the beach to stargaze - there is very little light pollution here to distract from the night sky.
After a lazy morning, depart Azura for a guided tour to Paradise Island.
Located on the northern shores of the Bazaruto Archipelago, Paradise Island feels lost in time. As you disembark the boat you will be greeted with the crumbling ruins of an old hotel and church on this completely deserted island. Explore at your own pace, pausing to enjoy a freshly cooked picnic lunch on the beach and a snorkel on the local reef before heading back to Azura in time for sunset.
Sadly it's nearly the end of your holiday. End your stay with a bang as you catch the helicopter back to the mainland, looking down on Benguerra's swirling pearl and turquoise coastline for a final time.
You will be transferred to Vilanculos Airport for your lunchtime flight to Johannesburg, which takes just under two hours. Transfer across to the overnight flight to London, with your bags automatically checked through. The flight will take 11-and-a-quarter-hours.
Your flight lands into London early in the morning.
All of the holidays we create are completely tailor-made to you
This sample itinerary is intended to give you a flavour of what we can do
A Rough Idea of Price
While all of our holidays are completely tailor-made and prices will vary based on things like time of year and level of accommodation, we want to give you as good an idea of how much this itinerary will cost. The below prices are based on two people sharing.
This Itinerary
If you would like to book the exact itinerary mentioned above, with economy flights, during mid-season and staying in our preferred room category at our preferred hotels.
Bare Necessities
If you would like to pare back the above itinerary by travelling at non-peak times, staying in a standard room and removing some or all of the guided activities.
Bells & Whistles
If you are looking for something extra special and would like to add business or first class flights, stay in top room categories at some of the most luxurious hotels we work with, and add more activities and guiding.
Emily C, Eleanor and Jacqui are our experts for this itinerary and as seasoned travellers they have the inside track on the most memorable adventures.