Whether you're a family of divers or a couple with contrasting interests, these destinations offer something for everyone to prep for the post-summer blues. Read on for a bit of autumn inspiration…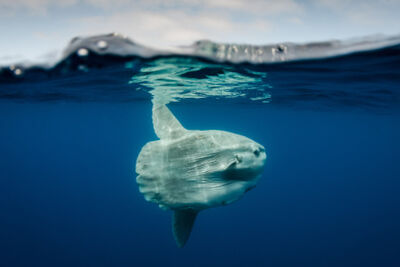 Indonesia
Travel to this diverse archipelago for a medley of action above and below the surface. Macro critters galore loom in the Lembeh Strait, illusive mola molas cruise off Bali, mantas, dugongs and magnificent reefscapes await in Raja Ampat, and that's just half of it. See wild orangutans in the jungles of Sumatra, visit the water temples and holy springs that are dotted across Bali, summit a volcano in Lombok to enjoy the sunrise sea views, and enjoy a picnic on a pink beach and close encounters with endemic Komodo dragons while cruising around Komodo National Park.
Philippines
Far out in the Pacific, the thousands of volcanic islands that make up the Philippines jut up from the sea in a craggy emerald landscape. The underwater array of diversity is astounding and this is one of the most reliable locations for spotting the endangered and illusory thresher shark, not to mention hundreds of corals, large schools of fish, and a macro lovers' microcosm dream. Topside, see tarsiers, a small leaping primate found only on a few islands in Southeast Asia, trek through the rolling green mounds of the Chocolate Hills and paddle through idyllic caves and lagoons, stopping off for beach picnics and sunset cocktails.
Mexico
Two contrasting coastlines bookend this vibrant country which is overflowing with historical sights and inland adventures. To the west you can challenge your diving skills at Socorro where sharks, mantas and other pelagics amass and really test your nerves with the great whites off Guadalupe. Or, take it easy on the east coast's Yucatan Peninsula, known for its calm Caribbean setting, warm waters and stunning reefs. Autumn here may bring seasonal rainfall, but it is also your best chance to spot whale sharks off of Holbox Island. Head inland to visit any number of Mayan ruins in the area, plunge into the crystal-clear pools of sacred cenotes (collapsed cave systems) or enjoy the buzzing nightlife, food and art scene of Mexico City.
Egypt
Egypt is crammed full of must-see sites and there are ancient tombs and temples dotted across the desert, conveniently close for a combination diving holiday on the Red Sea. If you fancy taking the leisurely route, drift down the Nile River in timeless style aboard our very own Steam Ship Sudan. Along the way, stop off to tour sites like Kom Ombo Temple, where you'll see mummified crocodiles, or the incredibly colourful Dendara Temple, then head east to the coastal city of Hurghada for wrecks and shore dives on one of the most colourful house reefs in the world.
Gozo
Known by many as the finest Mediterranean diving, this little island off of Malta boasts wartime wrecks, caverns, caves, lively reefs and a host of land-based attractions including the ancient Ggantija temples which pre-date the Pyramids and Stonehenge. Gozo is a hidden gem, but well worth the short flight, ideal weather and pleasant water temps in Autumn.
Oman
Oman retains a wholly rustic and sleepy Arabian charm, contrasted by its elegant and sophisticated cities. Copper-coloured sand dunes frame the coastline, calling intrepid travellers to desert camps where you can sleep under the stars. Further inland, the mountain region offers countless trekking and mountain-biking trails, rock-climbing and authentic mountain villages where you can observe daily life. Diving here, you'll witness dramatic underwater landscapes in the fjords that plunge into the depths of the Musandam Peninsula.
Tanzania
It's no wonder that Tanzania makes this list. Could there be a better combination holiday than scouting the plains for the Great Migration followed by diving and snorkelling adventures from Mafia and Pemba Islands just off the coast? Autumn proves one of the best times to visit to see the massive herds of wildebeest making their way across expansive game reserves while simultaneously aligning with the arrival of whale sharks to these waters. If you're looking for once-in-a-lifetime animal encounters, warm hospitality and a bit of rustic authenticity, this is the ideal spot.