Fish: they come in a kaleidoscope of colours and sizes, and whether alone or in a shimmering shoal dancing over reefs they're a delight to see on any dive, but are also essential to a healthy ocean. However, around 90% of global fish stocks are currently over-exploited, a problem Blue Marine Foundation (BLUE) aims to combat through the creation of marine reserves across the globe. We were lucky enough to have Vivienne Evans, BLUE's Maldives Project Manager, speak on the importance of marine conservation at our Blue Planet II event. Here we discover how she became a proponent of all things blue.
How did you get into marine conservation?
When I was 19 I did my PADI open water course on the Great Barrier Reef and it was then that I became a marine conservationist at heart. When I finished my Zoology degree I decided I wanted to specialise and work in the field so I did a Masters degree at the University of York in Marine Environmental Management.
What is your favourite place you have been diving and why?
It's cliché but the Maldives! I've been very fortunate to dive in many of the channels in Laamu Atoll with only myself and my colleague Shaha. Some of these channels have probably only been dived a handful of times because they are further south and are still very unexplored. If you dive them around the new moon or full moon they are spectacular! The schools of fish can be so dense that you're not able to see your dive buddy who is directly in front of you and, on that same dive, you can see thirty to forty sharks, eight or so manta rays, a school of eagle rays as well as nine or ten napoleon wrasses.
Which marine species fascinate you the most?
That's near impossible to answer but macro life in general probably fascinates me the most purely because macrofaunal species are quite strange! It's also incredibly rewarding when you spot tiny creatures on the reef, it always makes me question how many things I bypass when I am diving.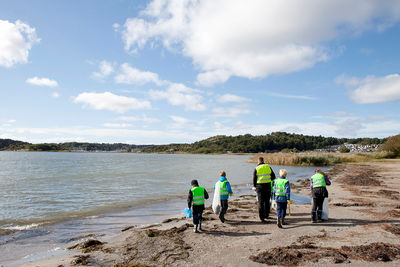 What can people do in their day-to-day lives to help reduce their environmental impact?
There are obvious ways to directly reduce your personal environmental impact like avoiding single use plastics and being mindful of energy use which I certainly applaud but I believe the biggest disservice we are doing is not talking about what's happening to our oceans. I encourage people to make ocean conservation a topic of conversation and use social media as a platform to do it. The recent movement towards eliminating single plastics across the UK was largely driven by social media, Blue Planet II and the Sky Ocean rescue campaign and it would be great to see such progress for other marine conservation issues.
Read Part II of our Q&A to discover what BLUE have been up to in the Maldives…