Often, when catastrophe strikes, or a community falls on hard times, we watch and wonder 'how can I help?' Some people choose to donate money, participate in food/clothing drives, volunteer their time or open their homes. Short-term relief is just the beginning though. To truly extend a helping hand to destinations that have suffered recent hardships, long-term support is required. That's where our concept of Philantourism comes in.
We define Philantourism as a combination of philanthropy and tourism, or the act of choosing a holiday or experience in order to support a destination. Many of our favourite destinations rely on tourism for survival and the family-run hotels, local guides and restaurants, along with the community they employ, were dealt a leaden blow these past couple of years due to the pandemic. On the horizon, though, we see signs of full recovery, helped along by the return of travel and the global love we have for these special places around the world.
As divers, we are natural stewards for the destinations we visit and we often see our clients getting involved with conservation projects during their trips. It's a big bonus, too, when an exceptional holiday spent under the waves with whale sharks, turtles and mantas also helps the community living there. Nothing wrong with getting a moral boost for your good deeds, and what better excuse to splurge a bit more!
Need a little altruistic inspiration? Read on for our top Philantourism destinations that will benefit most from your visit and also happen to offer mind-blowing diving. How's that for a symbiotic relationship?
Indonesia
Imagine a dive destination where you don't have to choose between riding waterslide-esque currents, sweeping past manta rays as they effortlessly hover at cleaning stations; scavenging silty bottoms for nudibranchs, frog fish and ribbon eels; or pouring over extensive reefscapes, discovering camouflaged pygmy seahorses and blue ring octos among the sea fans and crevices. From Bali to Komodo to Sulawesi, Indonesia is home to the most genuine and welcoming communities who go above and beyond to share the beauty and depth of their amazing home. Book your next Indonesian dive getaway to secure the best remote stays and feel good about supporting a place that couldn't deserve it more.
Tanzania
For the ultimate combination adventure holiday, Tanzania ticks all the boxes. Inland, let our expert guides take you off the beaten track to the Mahale mountains where you can hike in to find chimpanzees, or head to the plains and witness the Great Wildebeest migration. Then head just off the coast to the verdant Spice Islands for encounters with whale sharks and rustic beachfront accommodations. Heavily reliant on tourism to protect and sustain the abundant concentration of wildlife, Tanzania is a place that is well worth supporting with a visit, and it never fails to show off with its once-in-a-lifetime encounters.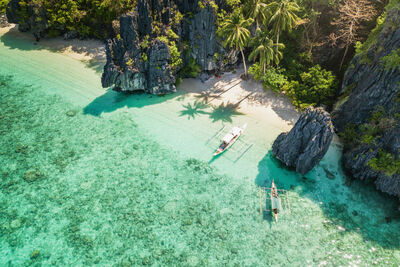 The Philippines
Ever a diver's favourite for reliable sightings of thresher sharks, mandarin fish, WWII wrecks and more of those bucket list beauties, the Philippines is another Coral Triangle destination that should top your must-visit list. From Dumaguete's world-class muck diving and Bohol's 'chocolate hills', to up-close encounters with tarsiers (the world's smallest primate) and spectacular wall dives, the Philippines is a pinnacle destination for every logbook. Though the country struggles against long-lining, poaching and other conservation woes, every bit of tourism they see helps reinforce preservation efforts and supports the local communities reliant on jobs at resorts, dive centres and excursion guide companies. Don't wait to visit this emerald and turquoise archipelago, book now to be blown away by the beauty and adventure it holds.
Sri Lanka and The Maldives
A short flight separates Sri Lanka from the many atolls of the Maldives. This opens the opportunity to have both a cultural, land-based adventure spent getting to know the melting pot of life in Sri Lanka, followed by soft white beaches and dives overflowing with reef fish, mantas, eagle rays, shark and turtles (to name a few). The intense love of their home nations highlights both destinations and you'll find this combination holiday fulfills many of the desires we are ever seeking in travel. Both spots are steadily better off thanks to your visit, be it through education programs initiated by the resorts in the Maldives to new employment opportunities for local villagers who have expert knowledge and true passion for their home reefs, mountains and coastlines. Don't wait to explore these wildlife and culture-rich nations!