How do you decide where to go on your next diving holiday? Do you return time and again to a place that welcomes you as an old friend, where you annually reconnect with the same dive guides who have watched your children grow and learn to dive as well? Or, do you methodically tick off bucket list corners of the world, never logging the same dive twice? Are you perpetually hunting a specific underwater creature from an ever-growing list, or are you more focused on the overall experience, just happy to be back in your underwater Zen?
'Where would you like to go?' and 'what would you like to see?' are often the first questions we'll ask when we begin planning. And it's surprising how often there is no exact destination in mind.
However, almost always, our divers know what they want to see… and it's most often something big.
We can't blame you, at Original Diving, we're cut from the same cloth. We've certainly been on many a trip with whale sharks or mantas in mind, and don't get us started on schooling sharks and migrating whales. We live for that encounter where we momentarily forget the first rule in diving (never hold your breath!), because something mind blowing just swam by. And isn't that the feeling we chase each time we strap a tank on our back?
With summer inching closer, we've compiled a list of our favourite destinations that draw the biggest marine life to their waters. If any of these have been on your list, get in touch today with one of our specialists, and start planning your next trip to dive and swim with the giants of the sea.
Mola Molas in Indonesia
Just across the Bandung Strait, separating Bali from Nusa Penida Island, is a magical dive site called Crystal Bay. Surface side, there lies a popular 200 metre stretch of unspoiled white sand beach, but travel here between June and October for the dive of a lifetime. A stunning reef bustling with fish, turtles and rays (maybe even mantas if you're lucky) ends with a dramatic wall dropping to the fathoms. Glide slowly along this decline, keeping your eyes on a swivel out to the big blue for the mola mola that cruise this alley, brought up to the shallows by the cold water current.
Giant Oceanic Mantas in Socorro
Not for the faint of heart, Socorro's 'The Boiler' dive site almost guarantees sightings of oceanic mantas. The largest ray in the world, their gargantuan wingspans reach up to nine meters, which is just shy of the height of a three-story building. You can spend your dive and safety stop in crystal clear water surrounded by these behemoths barrel rolling around you, all while silky and Galapagos sharks circle the craggy pinnacles below. Side note… if you go between April and June you may also catch schools of hammerheads.
Humpback Whales in Mozambique and French Polynesia
One of the most enchanting and eerie sounds you'll ever hear is the mournful song of humpback whales as you float, suspended in the same space as these larger-than-life creatures. The Bazaruto Archipelago, off the coast of Mozambique, is home to migrating humpbacks between July and October, while French Polynesia is an important breeding and calving ground between July and November. These rather acrobatic whales can be enjoyed both above and below the surface throughout the season, sometimes with a calf in tow.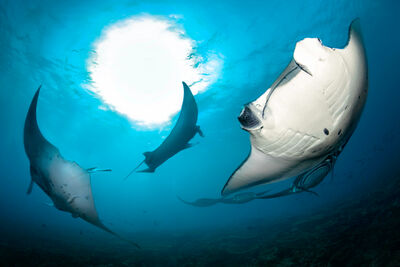 Mantas in The Maldives
Ever a destination of dreams, Hanifaru Bay doesn't seem quite real. It's a UNESCO Biosphere Reserve tucked safely in Baa Atoll in the Maldives, where the tides and currents collide, pulling plankton-rich waters into the bay, along with hundreds of manta rays. Though technically not a dive site (diving is prohibited here) you can still snorkel among the swirling vortex of manta rays as they summersault around you in seemingly choreographed feeding dances. July to September is peak for feeding aggregations.
Whale Sharks in Australia and Mexico
From late May to mid-September, the tiny island of Holbox, perched delicately above the Yucatan Peninsula, becomes a launching point for one of the most reliable and up-close encounters with whale sharks in the world. The whale sharks arrive to these warm, plankton-rich waters to breed, and encounters with them are strictly monitored. On the other side of the globe, head to Ningaloo Reef, in western Australia, for whale shark swims that might also include mantas and humpback whales for those in the water from June to August.