Bucket lists are for landlubbers. If you're a diver, and the ocean is your oyster, then you NEED to dive these spots, arguably the greatest dive sites on our blue planet.
Blue Corner, Ngemelis Island, Palau
Almost two dives in one, the strong current at Blue Corner means divers first attach themselves to the reef with hooks as grey reef sharks and giant Napoleon wrasse cruise by, and then unhook to explore a plateau of vibrant coral.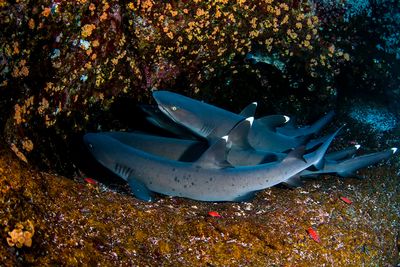 Roca Partida, Revillagigedo Islands, Mexico
Roca Partida is an eroded rock resembling a whale's tail rising from the deep Pacific, off of the Mexican coast. Beneath the waves you're seemingly alone in the big blue until silky, Galapagos and hammerhead sharks surround you, sometimes in their hundreds.
Fujikawa Maru, Chuuk Lagoon, Micronesia
Japanese aircraft transport ship Fujikawa Maru was one of 61 ships sunk by the American air force in February 1944 and is one of the world's greatest wreck dives. The Bow is dominated by a huge gun and the six holds contain torpedo and artillery shells, gas masks and - in Hold Two - an almost intact Mitsubishi A5M 'Claude' airplane, and a number of Mitsubishi A6M 'Zero' cockpits.
Nudi Falls, Sulawesi, Indonesia
Small is beautiful on this dive in the Lembeh Strait, as are the names of the macro marvels you'll see. Spot wonderpus photogenicus, harlequin shrimps, blue ringed octopus (pictured) and nudibranches galore.
Shark Hole, Tikehau, French Polynesia
Jacques Cousteau described Tikehau Atoll as richer in marine life than any lagoon in the world, and Shark Hole, near the Tuheiva Pass out into the open ocean, is the ultimate dive site. Expect 100ft visibility, inquisitive grey reef sharks, thousands of squirrelfish, hawksbill turtles and a spectacular coral garden as a finale.
Mapinduzi, Pemba Island, Tanzania
A boat trip away from Fundu Lagoon on Pemba, Mapinduzi is a 100ft wall dive overlooking a deeper abyss where you drift along on the incoming tide spotting hammerheads, shoals of giant barracuda and eagle rays.
Cod Hole, Great Barrier Reef, Australia
The Great Barrier Reef is home to the iconic Cod Hole, where enormous (and enormously greedy) potato cod swim around you waiting to be fed by the dive guide. Keep an eye out for clownfish, Napoleon wrasse and bumphead parrotfish as well.
Neptune's Arm, Vamizi Island, Mozambique
Several expert divers with several thousand dives under their weight belts consider Neptune's Arm to be the crème de la crème of dives, and with good reason - it's got everything from jaw-dropping geography to an abundance of marine life both big (grey reef sharks galore and groupers the size of Minis) and small, and near perfect visibility when conditions are right.
Bradford, Kimbe Bay, Papua New Guinea
Bradford, in Kimbe Bay, has a resident school of around 1000 barracuda that spiral elegantly over the top of extraordinary pristine coral bommies alongside spectacular shoals of jack fish, tuna, reef sharks and cuttlefish.
Tiputa Pass, Rangiroa, French Polynesia
The tidal Tiputa Pass flows from open ocean into the Rangiroa lagoon, funneling vast numbers of fish and larger predators through a narrow gap in the reef. Marine biologists have counted as many as 1500 grey and hammerhead sharks around the mouths of the pass at one time. This may not sound like the best place for a snorkel, but with visibility often up to 40 metres, snorkellers can also get in on the action. Even better this is pretty much effort free, as you plop off the side of the boat and, taken by the strong current, you join the marine migration drifting along above sharks, dolphins, manta rays and thousands of colourful reef fish.
Cape Kri, Raja Ampat, Indonesia
Raja Ampat is the epicentre of the Coral Triangle, the part of the Pacific Ocean between Indonesia, Malaysia, the Philippines, Papua New Guinea and the Solomon Islands. The diving here is generally considered to be the best in the world, and at Cape Kri esteemed marine biologist Dr Allen counted an astonishing 374 different species of fish. Think giant schools of tuna, trevally, fusiliers, snappers and surgeonfish, then throw in some sharks, barracuda, a few turtles, some aesthetically-challenged bumphead parrotfish and much, much more. Believe the hype, it is THAT good.