These days organising your honeymoon can be just as stressful as the big day, with the sheer mass of options leaving even the most zealous overwhelmed. That's where we come in - taking the stress out of the planning so you can enjoy yourself to the max. And when it comes to the perfect diving honeymoon, the hotel you choose is key. So sit back, relax and discover our top five luxury diving honeymoon hotels, taking you to the vibrant, captivating underwater world for a truly unique honeymoon adventure.
Six Senses Zighy Bay, Oman
Soar into Six Senses Zighy Bay slicker than James Bond by paragliding from the towering Zighy mountain. And that's just the beginning.
Where the rugged Al Hajar Mountains dive into the serene waters of the Musandam Fjords via a mile-long pristine beach, Six Senses Zighy Bay is your own personal oasis. Think traditional Berber village but with your own infinity pool and pillow menu. Yes, there's even a pillow menu.
Don't expect crystal clear visibility and great barrier reefs here. Instead, dive under fascinating fjords with coral encrusted drop-offs leading to a whirlpool of marine life - over 900 species to be specific. Best thing? You won't see another soul.
Oh, and to top it off, finish your day toasting a glass (or two) of champagne while enjoying a starlit dinner 1,000ft high at The Edge cliff restaurant.
Azura Benguerra, Mozambique
Great swathes of undiscovered beach dissolving into sparkling azure waters typify Azura Benguerra Island. But it's so much more than that. With only 20 villas you'll feel like you have the whole island to yourselves and with a personal butler available 24/7, you'll be forgiven for thinking you're Richard Branson.
Located within the Bazaruto Marine National Park, turtles, reef sharks, stingrays, devil rays and moray eels are the norm here, as well as a bounty of colourful reef fish. For fans of the bigger pelagics, whale sharks, manta rays and humpback whales are also known to visit on their annual migration.
Want to see some lions too? Combine your stay with Azura Selous in Tanzania's Selous Game Reserve and experience the best of both worlds.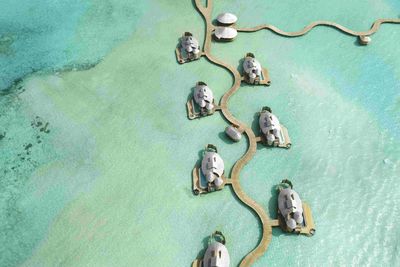 Soneva Jani, Maldives
Year-round warm temperatures, sugar-block beaches and excellent reefs with an abundance of marine life are guaranteed on any Maldivian honeymoon.
What sets Soneva Jani apart is its effortless integration into the island's natural surroundings, with overwater villas featuring fold-away windows for cool ocean breezes and portholes in the floors revealing the marine life below. There's even a retractable ceiling for starry nights.
Petit St. Vincent, St. Vincent and the Grenadines
If it's good enough for Jean-Michel Cousteau (leading conservationist and son of diving pioneer Jacques Cousteau) then you know you're in for a treat. At Petit St Vincent you'll find his dive centre (aptly named the Jean-Michel Cousteau Dive Centre) - expect to see turtles, eagle rays and lobsters, as well as beautifully preserved hard and soft coral reefs - all in gin-clear water.
Above water, 115-acres of volcanic island fringed with velvet beaches await. No television or wifi means couples can truly escape real life whilst three staff to every guest means everything is a finger touch away.
Alila Purnama, Raja Ampat, Indonesia
When diving is everything, Alila Purnama fits the bill. One of the most luxurious Phinisi ships in Asia, expansive teak-and-rattan interiors will make you feel like you're staying in a hotel (insider tip: stay in the luxurious Sriwijaya Master Suite and watch dawn change the water's colours from jade to crystal from the room's wrap-around windows).
But it's the excursions that really sell it. Voyages take place within The Coral Triangle (aka the underwater amazon), where marine biodiversity is staggering - think 76% of the world's coral species, six out of seven of the world's turtle species and 37% of the world's coral reef fish species. Oh, and whale sharks.
Glide over the serene waters of Raja Ampat (the 'epicentre of marine diversity') or take the Komodo voyage, where aside from diving you'll also have a chance to witness the famous Komodo dragon against Jurassic Park-esque backdrops.