Indonesia's 'Island of the Gods' boasts some of the most diverse diving around, and it's quite possible to spot (or have pointed out by your eagle-eyed guide) a new cryptic critter each time you venture below the waves. Bali's bountiful dive sites, slap-bang in the middle of the Coral Triangle, are the perfect playground for macro photographers. With nutrient-rich water flowing through the straits between Bali and its neighbouring islands, volcanic sand covering the seabed, and its tropical location, Bali is a hotbed for weird and wonderful marine life. Read on for our round-up of the top critters to spot when macro diving in Bali.
Pygmy Seahorse
Since their discovery in 1969, the permanently-pouting pygmy seahorse has been one of the most sought-after macro subjects for underwater photographers. It's possible to spot two different species of pygmy seahorses when macro diving in Bali: Hippocampus bargibanti and Hippocampus denise. Bargibant's pygmy seahorses and Denise's pygmy seahorses both like to hang out on gorgonian fans and are often the exact same shade as their hosts, making them tricky to spot. Luckily, your guides will know exactly which corner of which sea fan to scour, as they tend not to move around much. Until, of course, you're attempting to capture that iconic head-on pygmy shot, in which case the pygmy will inevitably turn its back on you...
Bobbit Worm
The mere mention of this benthic bristleworm's common name has been known to make grown men wince. But you can rest assured that while its impressive mandibles are capable of snapping some prey in half, they were named after an imagined ability to inflict injuries similar to those that Lorena Bobbitt inflicted on her husband-no such injuries have actually been reported!
Bobbit worms burrow their whole bodies in soft sediment on the ocean floor and wait until their antennae detect prey before striking with their sharp mouthparts. Their iridescent cuticles shimmer with a wide range of stunning colours, which is why they make our list of the top critters to spot when macro diving in Bali. A night dive at Secret Bay near Menjangan Island will give you your best chances of spotting one, and maybe wear a wetsuit instead of just board shorts-it's always better to be safe than sorry...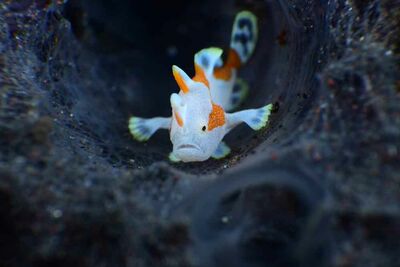 Clown Frogfish
The clown frogfish, also known by the less flattering name of warty frogfish, are arguably the cutest frogfish. Giant frogfish, hairy frogfish and painted frogfish are all also found in Bali's waters, but it's the sight of a small, bright yellow clown frogfish clumsily bumbling across the black sand surrounding the USAT Liberty wreck that photographers truly crave.
The dive sites at Tulamben, Amed, Padang Bai and Gilimanuk, near Menjangen Island, offer the best chances of finding frogfish, but they do turn up anywhere-even clinging on to the reef's edge when the currents are pumping in Crystal Bay.
Shaun The Sheep
Fear not-Mossy Bottom Farm has not relocated to Bali, but you can find the next best thing feeding on algae in Padang Bai and Tulamben: the Shaun the Sheep nudibranch. Also known as a 'leaf sheep', the Costasiella kuroshimae nudibranch is one of the cutest around. Their dark rhinophores emerging from the tops of their white heads resemble cartoonish sheep's ears, and they spend their days lazily grazing on vegetation.
Adding to their cuteness, Shaun the Sheep nudibranchs are only about the size of a grain of rice. And if a critter is both tiny and cute, it simply has to go on the list of the top macro critters in Bali!
Harlequin Shrimp
Without a doubt, the funkiest shrimp to be found are the harlequin shrimp. Their gaudy attire and Popeye-esque giant forelimbs make them uniquely photogenic, and constantly sees them placed on lists of the top ten macro critters. In Bali, the best places to hunt for harlequin shrimp are Padang Bai and Amed; have a peek in cracks and crevices, and you may just interrupt a couple of these vividly-hued shrimp feasting on an upturned sea star.
Mimic Octopus
The black-sand slopes of the island's north shore dive sites are ideal for macro diving. In Bali, if you want to hunt for every photographer's favourite cephalopod, the mimic octopus, Seraya Secrets and Puri Jati dive sites will be your best bet. Although the mimic octopus was only discovered in 1998, it has quickly become one of the most sought-after critters for macro divers.
The mimic octopus is able to impersonate numerous different species of animals, including lionfish, sea snakes, jellyfish and flounders, and witnessing such behaviour is a rare treat. Mimics glide over the sand while searching for prey and can often be spotted with just the top of their heads poking out from a small sand burrow. You'll need eagle eyes to spot these masters of disguise, but if you do, you will need to recharge your camera batteries after the dive!
Rhinopias
The genus of fish known as rhinopias falls into the scorpionfish family and is dubbed 'the Holy Grail of underwater photography'. While not classically beautiful, there's something strangely photogenic about these expert ambush predators. If you're muck diving in Bali and want to maximise your chances of spotting one, head to Amed, in Bali's eastern corner.
While there are six species of rhinopias, in Bali, you can spot Rhinopias frondosa, or weedy scorpionfish. The good news is that if you do find one, they tend not to move too much, and you should have plenty of time to adjust your camera settings before firing off a few shots.
Mandarinfish
Every underwater photographer has seen the iconic image of a pair of mating mandarinfish. While finding these psychedelic dragonets is relatively easy, patience is key to snapping that dream shot. Mandarinfish like to hang out in sheltered lagoons and inshore reefs, and are usually in the shallows, giving you plenty of time to get that shot.
To spot mandarinfish in Bali, Mimpi Lagoon - close to Menjangen Island - is a great spot. The mandarinfish inhabit rubble-covered bommies and come out to play just before dusk. Your guide will know exactly where to look for them, and then you just have to play the waiting game and hope they choose to pose for your camera...
Bobtail Squid
If you like your critters cute, then you need a bobtail squid in your life. These adorable cephalopods are small and shy and are best spotted at night. After the sun goes down, walk in off the beach at Seraya Secrets and you might come across one cutely burying itself in the sand. They are only around half an inch long and are quite timid. Often, when disturbed, they drop to the sand and use their front 'arms' to lift sand on top of their bodies to hide from predators.
Donut Nudibranch
One of the most sought-after nudibranchs when muck diving in Bali is the donut nudibranch, Doto greenamyeri. Donut nudis are quite small-around half an inch to an inch in length-and like to hang out on hydroids. Their cerata bear a striking resemblance to stacks of donuts or pancakes, and they can be found on the hydroids in and around the USAT Liberty wreck in Tulamben.
Outside of Milne Bay in Papua New Guinea, Bali is one of the best places to see these, and they are on the bucket lists of many visiting photographers. With photographers regularly requesting them, there's every chance your dive guide will know exactly where to find them.