Feeling the warmth of the sun on your skin as you step off the plane is one of life's great pleasures. There's something truly wonderful about venturing to a sun-drenched tropical paradise, and the further away, the better. It's also no coincidence that these distant destinations have some of the best diving on Earth. Whether it's iconic bucket-list dives, balmy beaches or lesser-known destinations that inspire you, here are some of the best long-haul diving holidays for your next far-flung adventure.
1. Indonesia
Comprised of 13,000 islands, each with its own distinct identity, Indonesia has no shortage of epic long-haul diving holidays. While Raja Ampat and Komodo are the most famous, there are plenty of up-and-coming destinations still unexplored, yet equally enthralling. From liveaboard expeditions and Alor Island to the Forgotten Islands, the Banda Sea and Triton Bay. Closer to shore, northern Sulawesi has some of the best muck diving in the world.
2. The Bazaruto Archipelago, Mozambique
Six palm-fringed islands scatter the Bazaruto Archipelago National Park, one of the largest conservation areas in the Indian Ocean. Home to the best diving in Africa, take your pick from the marine-rich Two Mile Reef or venture further afield to the Mozambique Channel where you may see humpback whales (July to October), whale sharks, manta rays, dolphins, bull sharks, reef sharks and five species of sea turtle.
3. The Galapagos, Ecuador
The Galapagos need little introduction. Topping most divers' bucket lists, this megadiverse marvel is famed for reliable sightings of whale sharks, scalloped hammerheads, marine iguanas and Galapagos penguins. Only a few liveaboards can operate in the area and berths sell out quickly, therefore this trip requires some forward planning, but trust us, the Galapagos Islands live up to the hype.
4. Papua New Guinea
Located in the far reaches of the Coral Triangle, Papua New Guinea (PNG) has myriad dives of yesteryear, where tornadoes of fish halo super-sized corals in visibility exceeding 40 metres. It's also the birthplace of muck diving (in Milne Bay) and boasts one of our favourite dives: Bradford Shoals. Combine PNG with liveaboard diving in the Solomon Islands for the ultimate long-haul diving holiday.
5. The Maldives
It's no secret that the Maldives boast the most luxurious private islands in the world. In fact, the hardest decision you'll have to make is which island to decamp on. One of our favourite islands, Six Senses Laamu, is a stone's throw from Hithadhoo Corner, a world-famous reef cleaning station. For the most remote atolls, hop aboard the Four Seasons Explorer to dive with sailfish, grey reef, leopard and tiger sharks in the Huvadhoo Atoll. Further still, the Fuvahmulah Atoll is a shark lovers' paradise, with hammerheads, thresher and tiger sharks swimming freely.
6. Alphonse Island, Seychelles
Alphonse Island is the dictionary definition of remote, located 250 miles from the Seychelles' capital Mahe. Limited flight schedules and even more limited spaces on those flights mean booking this long-haul diving holiday a long way out is essential. There are 33 established dive sites (with more being discovered all the time), sheer drop-offs covered in soft corals, expansive hard coral plateaus and an exceptionally healthy and diverse fish population.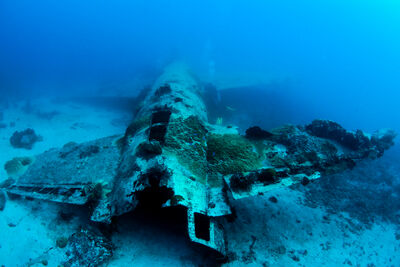 7. Micronesia
Long-haul diving holidays go hand-in-hand with the very best diving experiences, and Micronesia is no different. Located approximately 1,118 miles from Papua New Guinea, Micronesia, specifically Chuuk Lagoon, holds the title for the best wreck diving in the world. The site of Operation Hailstone, an aggressive US air strike in 1944, the lagoon is a now a graveyard of over 50 Japanese WWII wrecks still holding much of their cargo, from tanks to bullets and even gas masks.
8. Socorro, Mexico
The Revillagigedo Archipelago - best known as Socorro - is a prime example of 'the more remote you go, the fishier it gets.' From resident manta rays, bottlenose dolphins and ten species of sharks, including white tip, tiger sharks and scalloped hammerheads; as well as migrating whale sharks and humpback whales, Socorro hosts all the big-ticket pelagics. There are limited liveaboards operating here and voyages book up well in advance, so it's worth planning ahead.
9. French Polynesia
As long-haul dive holidays go, French Polynesia is an epic journey from the UK. But fast-paced shark diving and marine megafauna more than make up for it. For starters, Moorea is one of the only places in the world you can snorkel with humpback whales. In Rangiora, Tiputa Pass - known as the 'washing machine' - divers can experience fast-paced currents alongside sharks and dolphins, while in South Fakarava a feeding frenzy of 200 grey reef sharks awaits.
10. Fiji
White beaches, palm trees and turquoise lagoons; postcard-perfect Fiji is everything you'd expect from a long-haul dive holiday. And this South Pacific titan is just as idyllic beneath the waves. As the 'Soft Coral Capital of the World,' diving here involves firework displays of tropical fish and coral, while shark lovers can see a whopping eight species - including hammerheads, bull and tiger sharks - at Beqa Lagoon. It is paradise.