Marine Protected Areas are a beacon of hope in the wild west of the high seas. Safeguarding marine ecosystems from ever-looming human threats (think: overfishing, habitat destruction and pollution), is critical to the long-term sustainability of our oceans. Unsurprisingly, they also have some of the best diving in the world. From countries pioneering marine conservation to marine parks with more biodiversity than the Amazon rainforest, discover the top ten marine protected areas in the world.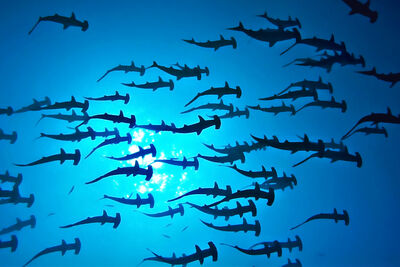 Galápagos Marine Reserve, Ecuador
The Galápagos Marine Reserve is regularly touted as the best marine park in the world. This megadiverse marvel was the inspiration for Darwin's Origin of Species, was the first ever UNESCO World Heritage Site - designated in 1978 - and became a fully-fledged marine protected area in 1986. Adding to its accolades, the Galápagos is home to a whopping 3,000 species of fish, whales, dolphins, sharks, rays, sea lions and the most endemic species in the ocean, including Galapagos penguins, marine iguanas and the red-lipped batfish.
Raja Ampat Marine Protected Area, Indonesia
Part of the Coral Triangle, Indonesia has the richest marine biodiversity in the world. Home to 75% of known coral species and a vast array of marine life, from sharks and whales to Mola Mola and macro critters, protecting Indonesia's coral reefs is crucial. Out of the 189 marine protected areas, Raja Ampat is the most biodiverse, however Bunaken National Park, Komodo National Park and Wakatobi National Park aren't far behind.
Palau Island Marine Sanctuary
Pioneering ocean conservation, Palau created the world's first shark sanctuary and the Palau Pledge, a stamped passport pledge requiring tourists to act environmentally responsibly. In January 2020, Palau rolled out its most ambitious conservation initiative yet, banning all extractive activities (like mining and fishing) in 80% of its Exclusive Economic Zene (EEZ), making Palau Island Marine Sanctuary one of only five large-scale marine protected areas in the world.
Cocos Island National Park, Costa Rica
Cocos Island's main diving fame lies in its shark-rich wates. Divers who make the 36-hour voyage to this remote marine park can see shivers of hundreds of scalloped hammerheads, white tip reef, tiger, silky, Galápagos and whale sharks. On the less toothy side, migrating humpback whales, bottlenose dolphins, sea lions and 30 endemic marine species, including the Cocos red-lipped batfish, complete its who's who of marine diversity.
Hanifaru Bay Marine Protected Area, The Maldives
The Maldives, comprised of twenty-six atolls flung across the Indian Ocean, has several marine protected areas, all boasting healthy coral reefs and plentiful pelagics. However, Hanifaru Bay, found in the Baa Atoll UNESCO Biosphere, is a unanimous favourite among our diving specialists. Between May and December, this marine protected area attracts the world's largest aggregation of manta rays and whale sharks. Insider tip: time your trip around the full and new moons for the best encounters.
Apo Island Marine Sanctuary, Philippines
Established in 1982, Apo Island Marine Sanctuary is one of the pioneering community-led marine reserves in the Philippines. Today, this marine protected area boasts 400 species of coral and 615 species of fish, inspiring the establishment of hundreds of community-managed marine protected areas in the Philippines.
Fakarava Biosphere Reserve, French Polynesia
French Polynesia has set an ambitious target: to create the largest marine sanctuary in the world by 2030. The Rahui Nui reserve will span 278,000-square-miles, protecting 21 species of sharks, 176 corals and 1,024 species of fish. In the meantime, Fakarava Biosphere Reserve has been protected for 40 years with some of the best diving in the archipelago; especially in Fakarava South Pass, where divers can mingle with 200 grey reef sharks.
The Revillagigedo Archipelago, Mexico
It's rare to make eye contact with a dolphin and even rarer to have manta rays swoop inches above you (to feel your bubbles tickle their bellies). But then everything about the Revillagigedo Archipelago is unusual. Spanning some 58,000 square miles in the remote Pacific Ocean, the Revillagigedo Archipelago - better known as Socorro - is the largest marine reserve in North America as well as the newest, having only been given its marine protected area status in 2017.
Bonaire National Marine Park, Bonaire
Established in 1979, Bonaire National Marine Park is one of the oldest marine reserves in the world. The marine park protects the surrounding fringing reef, with 57 coral species and 35 species of fish in calm, clear water. Best yet, most of the dive sites are accessible from the shore.
Namena Marine Reserve, Fiji
Hailed as the 'mecca of diving in Fiji,' Namena Marine Reserve has some of the best sites in the South Pacific. Starting with Grand Central Station, which features large coral bommies and technicolour soft corals patrolled by reef sharks. Another favourite site, The Chimneys, features a series of coral pinnacles haloed by flurries of tropical fish.