I used to celebrate Christmas a lot when I was younger. Decoration time was always exciting; a wreath on the door, pine twirling around the bannisters, ornaments and candles out in full. I always remember that my brother and I would decorate the tree only for it to be sneakily corrected and perfected by my dad later that evening. All that changed as we got older. Now I don't want to sound like a scrooge, I'm really not one, but I did find the onslaught of commercial Christmas a bit exhausting. Maybe it was the lack of vitamin D talking, but all those jingles took their toll. On the bright side, this was the advent of the Christmas holiday for my family and me and, thank goodness, we have rarely looked back…
Incredible Diving
Bring on the safari holiday, welcome to India, salutations to Sri Lanka and finally, a few holidays into our new tradition, hello Maldives! I have dived before in the Galapagos and the Great Barrier Reef, even a few shockingly cold dives in Wraysbury Reservoir outside Heathrow Airport (don't ask), but it was in the Maldives I found the most amazing combination of easy, simple diving with an incredible array of coral and sea life, big and small.
Staying at Constance Moofushi
Wherever you stay in the Maldives you are always only a short boat trip from at least a handful of fantastic dive sites. There are, however, some islands better situated than others and it was this year (on Original Diving's very own Louisa Fisher's recommendation, I should add) that we stayed in my favourite: Moofushi. It's one of the few islands that has maintained that impressive level of luxury the Maldives has become synonymous with, while also providing an all-inclusive option (memories of islands where a bottle of water cost $20 come to mind), and has some of the best diving in the Maldives within reach. Many of the guests on our dive trips were on their 5th, 6th or 7th holiday in the Maldives, but also on their 2nd, 3rd or 4th stay at Moofushi. And they'd stopped looking for other islands.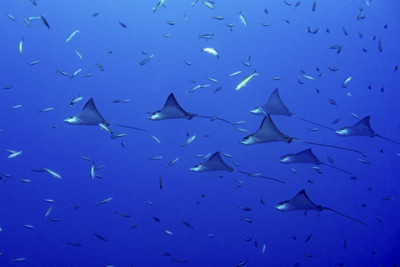 Giant Manta Rays
I have seen some amazing things diving but possibly the single most impressive moment was courtesy of the Moofushi dive team, whose expertise and know-how found me caught amongst a full on feeding frenzy of giant manta rays. The grace of these creatures as they swoop around you defies their size, totally un-phased by me as I lay amongst a shoal of yellow snapper, looking up at these gentle giants, almost touching me they were so close. It was breathtaking (well not until I had reached the boat). Apparently this spectacle is not uncommon for Moofushi and, although the rays here are seasonal, our instructor was so clued-up he knew exactly where to find them.
Now back in London and I'm sad to say for Christmas this year I we will be staying put. Every cloud though; I have all the family over for Christmas dinner and have a chance to get those decorations out. The Maldives can't do bread sauce anyway. On second thoughts, they probably could.