21st December 2012 was supposed to mark the end of the world, according to Mayan prophecies anyway. Thankfully, we've lived to see the decade end - and boy has it been a corker. The last decade has seen the creation of iPads, Fitbits and 4G, and the first image of a black hole was unveiled. It was also the decade that Leo finally won an Oscar and people the world over went potty for planking, dabbing, twerking and flossing... whatever they are. The past year has been just as exciting at Original Diving; we've been in the midst of shark-feeding frenzies, photographed underwater UFO's and become gloriously marooned in paradise - all in the name of research...
Thousands of Sharks in Fakarava, French Polynesia
Our Head of Diving, Louisa, has just returned from the remote corners of French Polynesia where she mingled with hundreds of grey reef sharks in the Fakarava atoll. Sound familiar? You might remember it from the epic marbled grouper spawning scene in Blue Planet II, where over 700 sharks attacked in a frenzied spectacle. Paired with some of the most screensaver-worthy landscapes we've come across, this should definitely top the bucket list for 2020.
Off the Grid in the Banda Sea, Indonesia
Despite being wedged between Raja Ampat and Komodo, the Banda Islands remain deliciously under the radar. Hop aboard a luxury phinisi to ply the region, diving with hundreds of scalloped hammerheads (as confirmed by Original Diver Lizzie on her recent endeavour), exploring the world-class muck diving sites of Ambon, swimming alongside blue whales and experiencing some of our favourite diving in Indonesia in Alor.
Laidback Little Cayman, Caribbean
With only 180 resident inhabitants, Little Cayman is completely underdeveloped and wonderfully au naturel. The diving is no different, with a healthy horde of marine life including turtles, nurse and reef sharks, eagle rays, plenty of stingrays and lots of small stuff too (cleaner shrimps, blennies, channel clinging crabs, nudibranchs, sea slugs, conchs, pipefish and flamingo tongues). Most of the sites are within Bloody Bay Marine Park which is characterised by shallow sloping reefs, sheer walls and muck sites suited to every level of diver.
Desert Island Escapism: Fiji
Fiji's underwater endeavours are legendary. From the famous bull shark dive in Beqa Lagoon (just ask Lizzie Barry about her experience) to boasting the most colourful soft coral reefs in the world - and all in visibility exceeding 50 metres - suiting snorkellers and divers alike. Above water is equally as enthralling with lush rainforest hikes, white sandy beaches, towering volcanic peaks and some of the friendliest people on earth. Fiji is the whole package.
Alien Territory in Northern Sulawesi, Indonesia
Before you grab your tin foil hat and start tracing crop circles, we're referring to the underwater aliens that lie in the Lembeh Strait in Northern Sulawesi. From the metre-long carnivorous bobbit worm to minute octopuses and frogfish galore; the house reef at Dive into Lembeh is particularly extra-terrestrial, housing three of Lembeh's most coveted dives, including Hairball, where Original Diver, Lizzie, saw a whopping five different types of frogfish. Pair it with the incredible coral reefs of Bunaken National Park and you have the whole package.
Epic Shark Diving in The Bahamas
If it's good enough for Will Smith, it's good enough for us (he literally conquered his fear of sharks in the Bahamas). Home to some of the best shark diving in the world, divers can mingle among Caribbean reef sharks, great hammerheads, tiger sharks, oceanic white tips... the list goes on. There's also the James Bond wrecks of Nassau, epic blue hole diving off Andros and so much more. Discover the top shark diving experiences in the Bahamas in our blog.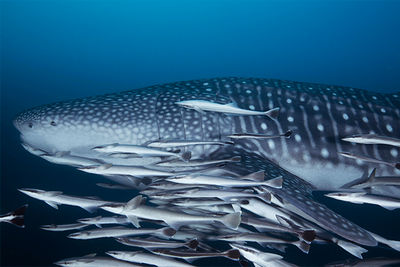 The Norway of Arabia: Musandam Peninsula, Oman
The Musandam Peninsula is the only waterway between the Persian Gulf and the Arabian Sea, therefore the currents can be quite strong as water squeezes its way through, but you'll be rewarded by a huge variety of marine life, from rays, sharks, barracudas, giant trevallies and even whale sharks to a soup of smaller fish life. Surface intervals can be spent hiking in the rugged Al Hajar Mountains, relaxing on the shores of Six Senses Zighy Bay and so much more.
Jaw-Dropping Wall Diving in Turks & Caicos, Caribbean
"The diving around Providenciales is all about beautiful reefs and walls, with a famous 6000ft drop-off at North Western Point and incredible coral everywhere. I saw everything from the small stuff (flamingo tongues, blennies, jawfish) to larger (Caribbean reef sharks, stingrays, turtles, barracuda). The most impressive thing for me was the visibility which consistently exceeded 30 metres." But don't just take India's word for it, see for yourself.
Marine Life Wonders: The Philippines
Eliza ticked off just about every macro critter there is on her recent sojourn to the Philippines. Some of her favourite sites included Secret Corner in Dumaguete where she saw blue ringed octopus, wonderpus, coconut octopus, mototi octopus, flamboyant cuttlefish, frogfish and snake eels; Heidis in Anilao where she saw juvenile flamboyant cuttlefish, ornate ghost pipefish, glass shrimp, sexy shrimp, juvenile scorpion fish, lemon gobies, pipe horse, coconut octopus, white wrasse juvenile, mantis shrimp and skeleton shrimp; and the mandarin fish dive on Amun Ini's house reef in Bohol.
The Best Winter Blues: The Maldives
Lizzie Barry is currently escaping the winter blues in the Maldives, where she's spending the week cruising the turquoise atolls aboard the Four Seasons Explorer, aka the most luxurious liveaboard to ply the Indian Ocean. The liveaboard will cruise the remote southern atolls of the Maldives for the first time next March; but be warned, there are only a few cabins left for this once-in-a-lifetime experience...
Get in touch with one of our team to plan your next scuba diving adventure.