Ever dreamed of being marooned on a desert island? Well, I have the perfect way to do it, in style, comfort and total bliss!
I'm not sure if you can count arriving by helicopter to the beautiful white sand beaches of Benguerra Island as being marooned, but it was spectacular. I can honestly say that the views from the helicopter over the stunning turquoise sea with the emerging sand banks is one of the most breath taking views I have ever seen...
Azura Benguerra
After getting my breath back, we were welcomed to Azura Benguerra with a delicious drink made by Carlos, our host for the stay. Carlos was a lovely, friendly local Mozambican who had a very infectious smile and made us feel completely at home straight away.
It was clear right from the beginning that everyone here pays a huge amount of attention to detail. You definitely get the feeling that they truly care and want to make your stay on the luxury island the best it can be.
Island Life
Your days in this paradise can very happily pass by just relaxing, enjoying your pool, the white sand beach and the endless delicious food and drink. But if you feel like a change, there are some fantastic trips and activities, from working up a sweat climbing the sand dunes of Bazaruto Island (worth it for the views), to having a private picnic lunch on Pansy Island, another beautiful paradise white sand island, home to some fabulously pink flamingos. On arrival back to the island your host will be waiting to great you off the boat with a welcoming cold drink and refreshingly chilled towel.
I'm not sure there are too many better ways to witness the day coming to a close than relaxing with a nice cold drink enjoying the dramatic colours of an African sunset, and all this whilst sailing across the ocean in a local dhow boat.
Diving in Bazaruto National Park
The resort's dive centre has its own wonderful, friendly team all ready and waiting to get you in the water to explore Bazaruto National Park, which boasts wonderfully healthy coral and a very diverse and flourishing marine life. The diving here is suitable for all levels, whether you haven't dived for years, are just starting out or are an advanced diver.
You can enjoy your time underwater searching for large moray eels, black tip reef sharks, turtles, devil and honeycomb rays. If you are extremely lucky you may get the chance to see the extremely elusive and shy dugong. And if you time your trip right (between July and September) you can even get the chance to witness the annual humpback whale migration. And of course, your host will be awaiting your return with a nice refreshing drink and to hear the stories from your trip!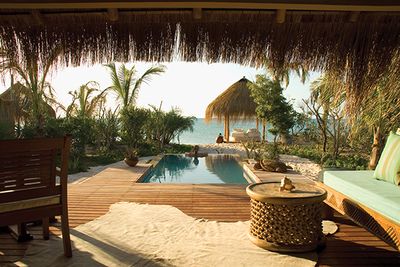 Luxurious Surface Intervals
After a day's diving you can't beat lounging by the private pool at your room, which are all built into the trees so you feel like you are the only people on the island. Every guest has been considered, with beautiful options designed for the perfect couple getaway and larger villas ideal for a family or a group of friends. The Presidential Villa was particularly spectacular, which even goes as far as having its own private helipad so you don't have to step foot in the main part of the hotel at all. Not to forget the villa has its own butler, a private kitchen and chef so you barely need to lift a finger.
Home Time
When the day finally came for me to leave this beautiful island paradise it was a slightly bitter sweet moment. I didn't want to leave, however I couldn't wait to get back in the helicopter to see the stunning views from above again. Azura Benguerra really is a paradise island so if you're looking for the perfect combination of a chill out destination following an action packed safari, or even just an island getaway on its own you will not be disappointed. I don't think any words, however poetic and elegant, can do the views and the setting there justice!