As the eternal summer is drawing to an end and rainy days are starting to rear their head again, it's only natural to start yearning for your next diving adventure, and the great news is that if you are short of holiday days (as most travel enthusiasts tend to be eight months into the year) then fear not for you can still get your diving fix over a long weekend, and we have the perfect spot:
Autumn in Gozo
September and October on Gozo makes for the perfect sun-drenched, sleepy getaway that autumn screams for. Just a three hour flight from London, Malta is renowned for having some of the best diving in Europe and once the schools have gone back this haven returns to its usual tranquillity - get yourself there for a long weekend to enjoy the warm crystal waters and the rich history of this fascinating country.
Thursday
Fly direct from London to Malta - arrive to be privately chauffeured to the ferry terminal (via the Silent City of Medina for an indulgent lunch if you like!) and settle into our favourite boutique hotel on the island. You will be met by the charming Italian couple who run this stylish bolthole and can spend your first night gazing at the stars from a hammock on a rooftop, which you'll have all to yourself.
Friday
Up and at 'em with one of the most stunning breakfast spreads I've ever seen - from handmade cakes and pastries to delicious cooked breakfasts or fresh berries, all washed down with a rich hot cup of coffee, this ought to set you up for a day of diving!
Jump in your hire car (which is, of course, waiting for you on arrival at your hotel) and head down to Xlendi Bay to join a day's diving with our favourite centre. For your first day you can dive the local caves at Xlendi with stunning visibility and a wealth of marine life tucked in among the impressive underwater topography this area is well known for. Keep an eye out for octopuses hunting in crevices and flying gurnards displaying their cobalt blue wings as they scour the sandy bottom.
During your surface interval, your hotel can treat you by running down a thermos of hot chocolate, providing you with fluffy towels and a healthy and delicious packed lunch (say goodbye to the dreaded white bap with an inch of butter and a fatty piece of ham sweating in cling film) made especially for you!
Your afternoon dive may take you out of the bay and around the dramatic headland to explore the wonders of San Dimitri Point - keep an eye out for barracuda and rays which are a highlight here.
After your first day's diving, you can relax by the pool as the sun goes down with a cocktail in hand and some homemade bar snacks - the parmesan crisps are particularly addictive. Head off to a nearby restaurant and taste some delicious local food before a good night's sleep in this most peaceful town.
Saturday
Today is all about the 'must dive' sites - the Blue Hole and the Inland Sea. You'll venture by minibus to these stunning sites and spend the day exploring their wonders. If you fancy a bit of wreck diving then the iconic Comino Caves and P31 Wreck are the spots for you. Whatever you prefer, the dive centre will be happy to accommodate.
In the evening, drive up to the Citadel and wander around here as the sun sets - you'll almost certainly be the only ones here and I recommend taking a guide book with you to learn about the fascinating history of this seemingly unassuming island.
Upon return to your hotel you'll be treated to a fresh and simply delicious meal served in the courtyard garden, surrounded by twinkling fairy lights.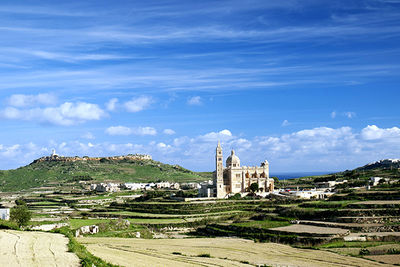 Sunday
One last day to explore the island at your leisure. Beetle about in your hire car exploring hidden coves, charming seafront restaurants and even temples older than the Egyptian pyramids (no, really!)
Late in the afternoon you'll head back to Malta to fly home. As far as long weekends go, not too shabby hey?