When you set sail on your liveaboard to destinations unknown, and with a salty ocean breeze ruffling your hair, it's hard to argue with the old proverb about the journey being as important as the destination. As your skipper plots his course between the most coveted diving destinations, a liveaboard cruise allow divers unparalleled opportunities to explore some of the finest dive sites in the world. Whether you board a traditional phinisi boat or a luxurious floating five-star hotel; whether you're a snorkeller or advanced diver; whether you want to up the dive count or combine diving with land-based escapades, discover the top five destinations for liveaboard diving.
Liveaboard Diving in Oman
Located off the south eastern coast of Oman, the Hallaniyat Islands are a relatively new destination for liveaboard divers, wherein lies the charm. Board the Oman Aggressor to cruise the archipelago, diving in a fish soup of reef species alongside honeycomb moray eels, dragon morays, giant groupers, sea turtles and - if you visit between January and March, humpback whales - all without another soul in sight.
Liveaboard Diving in the Maldives
Rather than pick one idyllic island paradise in the Maldives, cruise around several aboard some of the world's finest luxury liveaboards, dipping into a different turquoise atoll each day to explore some if the archipelago's more remote dive sites, ranging from crystal clear lagoons to thrilling channel dives. Along the way, dive with manta rays, sharks, dolphins, groupers and more, spending surface intervals exploring local islands and picnicking on deserted sandbanks.
Liveaboard Diving in Micronesia
You might wonder where on earth Micronesia even is - and that's precisely the point. Located in the pacific, this remote archipelago is home to Chuuk Lagoon, the site of a ferocious airstrike carried out by the United States on the Japanese in WWII known as 'Operation Hailstone'. Only accessible by liveaboard, divers can explore an underwater museum of over 50 wartime wrecks draped in hard and soft corals, spotting all manner of cargo including bullets, gas masks and even bones, a haunting reminder of the lives lost. For the best of both worlds, hop west to Yap where diving with mantas is virtually guaranteed year-round in the Mi'l channel.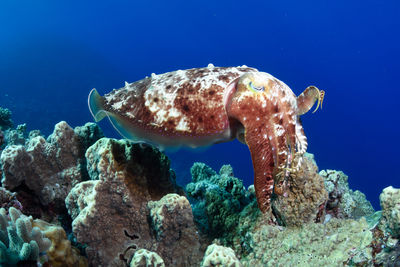 Liveaboard Diving in Australia
The three swirling atolls that make up Rowley Shoals are the remnants of a trio of extinct volcanoes, featuring everything from dramatic canyons and lagoons to thrilling drift dives and plunging wall dives, are populated by healthy corals and abundant marine life (over 688 species, to be exact). The Rowley Shoals are located 180 miles west of Broome, so set sail aboard True North and explore sites guided by a marine biologist and posse of underwater naturalists, naturally. Continuing on the 'three's the magic number' theme, cruising across western Ningaloo Reef for whale sharks (winter) or humpbacks (summer) and exploring the Great Barrier Reef are also best done by liveaboard. All aboard!
Liveaboard Diving in Indonesia
Whether sailing around the traditional favourites of Raja Ampat and Komodo, or exploring the lesser known (but no less impressive) corners of Alor or the Banda islands, it's not unusual to have entire reefs to yourself. Even better, the remoteness of these sites and limited human interaction means everything comes supersized. From table corals that could seat a dozen for dinner to vast cabbage patches, bulbous brains and highlighter shaded soft corals, all are blurred with bright flickers in every colour as fish dart about their daily lives. Above the surface, sweeping vistas reveal a time seemingly forgotten, with undisturbed glassy watered bays to misty jungles exhaling thin clouds of smoke from hidden villages. Slip into a delicious routine of eat, sleep, dive, repeat as you delve a little deeper into Indonesia's mind-boggling marine diversity.
Interested in liveaboard diving? Get in touch to plan your next liveaboard diving adventure.