We revealed the first round of winners for our Underwater Photography competition in Part I, now after much anticipation, it's time to reveal the other images that smashed the 'original' diving photo brief, and, quite frankly, made us want to escape the city in search of some water. Pronto.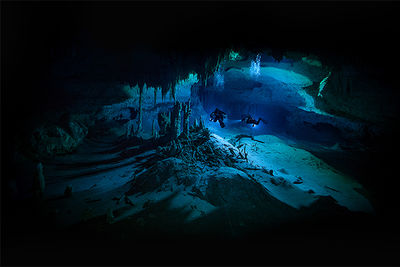 THROUGH THE DARKNESS by Tom St George
Diving the cenotes of Mexico is a unanimous favourite among the Original Diving team, and Tom St George's eerie capture of the crystal-clear waters of Cenote Nariz in Mexico perfectly encapsulate the Mayan's belief that these freshwater sinkholes were portals to the underworld. With over 7,000 cenotes to choose from, we rounded up the best of the bunch in our Diving the Cenotes of Mexico blog.
GIANT VACUUM CLEANER by Thomas Heckmann
We love the title almost as much as the image (almost). It was captured in the Abu Dahhan - near Marsa Alam on the Red Sea - in Egypt, where dugongs gather to hoover giant patches of sea grass.
THE EYE OF A HERMIT CRAB by Kate Allan
This extreme close-up of an anemone hermit crab was captured in Raja Ampat in Indonesia, one of the most biodiverse regions in the world - the underwater Amazon, if you will. Discover the best sites in Raja Ampat on our blog.
THE GOLDEN COMPANY by Jake Wilton
Isobel, Ningaloo Reef's resident female manta ray, rarely leaves the coral bay area so there's plenty of opportunity to snap her yourself alongside whale sharks (March to September) and humpback whales (July to October). Love Mantas? Discover some of our other favourite spots to swim with manta rays.
NIGHT JEWELS by Horacio Martinez
Photographed during a blackwater dive in the Lembeh Strait in Northern Sulawesi. One of the most unique diving experiences out there, blackwater diving involves being tethered to a boat line in the open ocean at night. Why? Because that's when all the most alien-like creatures of the deep rise to the surface to feed and breed, much like the luminescent crustacean captured here.
DISCO SQUID by Enrico Somogyi
An experiment that definitely paid off, Enrico captured this colourful squid using a slow shutter speed with two continuous lights - one red and one blue - to create this alien-like image of a squid at night.
CRAB CATCHER by Nick More
Snapped in Manando in Northern Sulawesi, a porcelain anemone crab raises its feeding arms into the current. Porcelain anemone crabs compete with anemonefish for protection of an anemone, although anemonefish usually win, meaning that you'll seldom see them together.
THE SCREAM by Enrico Somogyi
The aquatic version of Edvard Munch's famed The Scream, Enrico aimed his camera at precisely the right moment, capturing a hairy frogfish mid yawn while diving in Lembeh.
SUBMERGED ME by Rahul Mitra
A simple but effective image, Rahul's mask reflects the wonders of the underwater world in the Andaman Islands, India. A selfie we can all get behind.
DARTH VADER by Kathrin Landgraf-Kluge
An apt title for this red devil scorpionfish, we think you'll agree. This image was captured using a snoot - a tool placed over a strobe head that controls and directs the strobe flash - in this case, highlighting this red critter out from its mucky seabed surroundings.
We'd love to see your underwater photos, just follow and tag us on Instagram @originaldiving
To organise your own photography diving trip, get in touch with one of our experts.